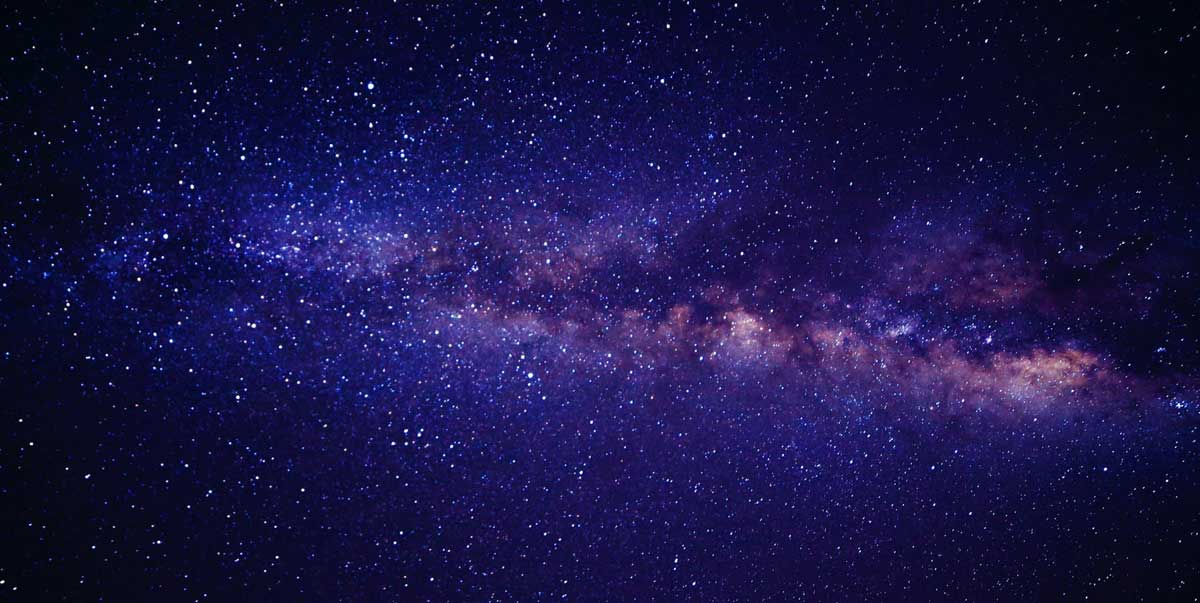 The Complete Guide to New Jersey HVAC Contractor License
---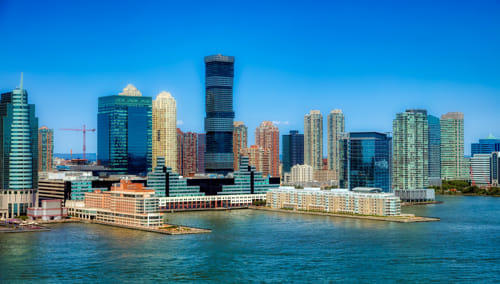 You want to start your own HVAC company but you're not sure how. This guide has everything you need to know about getting an HVAC license in New Jersey and starting a successful business.
It's time-consuming, frustrating, and confusing. But this guide is here for the help of those who have been searching for information on starting their own business with great success!
New Jersey is one of the most difficult states for obtaining an HVAC license, so it's important to research how you can apply for your license before getting started. Keep reading this comprehensive article all the way through so that by finishing it, you'll be one step closer to your success!
How does New Jersey define "HVAC contractor"?
An HVACR contractor is a person who provides heating, ventilating, and air conditioning (HVAC) services to buildings. The term "HVAC" refers to the systems which provide all three of these functions. New Jersey defines an HVACR contractor is someone who:
provides his or her service;

must be independent in that he or she does not employ any employees other than himself or herself;

must be certified by the state; and

must be registered with the state.
Get started with ServiceFolder
Manage Jobs & Staff
On Site Quote and Invoice
On Site Notes and Photos
Sync with Quickbooks Online
Print Designer for all Documents
Equipment/Asset Management
Customer Management
Leads Management
Inventory Management
Customer Notifications
Customer Fields
PriceBooks
Who issues the NJ HVAC licenses?
New Jersey HVAC licenses are required for the state of New Jersey. It is important for anyone who wants to work in this industry to have one of these cards, as it will help them get a job and keep their position safe. The New Jersey Board of Licensed Professional Engineers and Land Surveyors issues the NJ HVAC licenses.
Advantages of getting an HVAC license in New Jersey
The license assures consumers that their contractor has met high standards for construction quality and code compliance, as well as experience in related fields such as engineering, design, manufacturing, installation, and servicing.
New Jersey HVAC License holders can start their own contracting business, which gives them the flexibility to live a more comfortable life. They also have better job opportunities because they're eligible for certain licenses that other people aren't able to get without experience.
It also offers a flexible career path that allows for the opportunity to learn new skills and grow into more advanced positions across different industries.
The complete process to get an HVAC Contractor License in New Jersey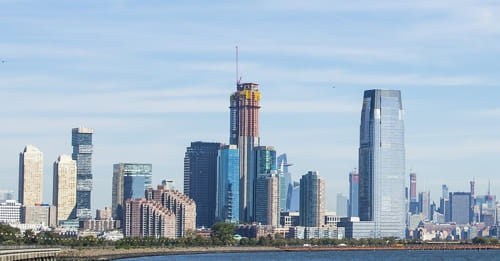 The Complete Process to Get an HVAC Contractor License in New Jersey, the process is broken down into 5 steps:
Step 1: Meet eligibility criteria (experience requirements)
To obtain an HVAC contractor license in New Jersey, you need to have experience. The Board of Examiners of Heating, Ventilating Air Conditioning, and Refrigeration Contractors requires that applicants have at least five years of experience as a registered or licensed HVACR contractor. You must also meet experience requirements. Experience can be obtained through formal education or previous work experience.
To obtain a New Jersey HVACR contractor license, contractors must be 21 years old or older and have one of the following experience requirements:
Option 1- 4-year apprenticeship and then one year of journeyperson experience;
Option 2- 4 years Bachelor's degree in HVACR and then one year of journeyperson experience;
Option 3- 4 year Bachelor's degree in an HVACR related field and then three years of journeyperson experience.
Contractors have a choice of how they meet their experience requirements. They can either provide proof that they have completed training requirements or complete on-the-job training with a higher level of responsibility.
Step 2: Application Process and Examination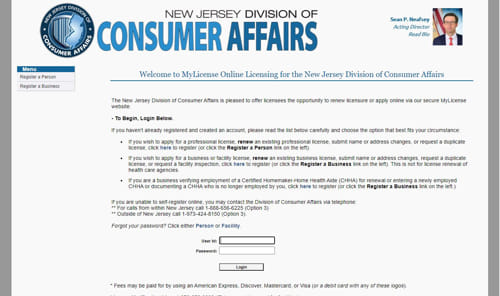 You need to complete an online application and pay a $100 application fee. You can apply for a fresh license here. You need to submit the following documents with your online application:
Work Certifications- Get your work certifications signed and sealed by supervising HVACR Contractors;
W-2s- Get your W-2s as proof of your experience in the trade while enrolled in apprenticeship and your W-2 for the one (1) journeyman year in the HVACR trade with practical hands-on experience;
College Transcripts- Get your college transcript representing your completion of your bachelor's degree in HVACR or a field related to HVACR; mechanical, plumbing, or sanitary engineering;
Official completion certificate- If you are applying under the category of "formal apprenticeship training", you must procure the official document from the U.S. Department of Labor as proof of your completion of both school hours and work hours.
Please note that the journeyman year starts once you have either completed your formal apprenticeship training or once you have your bachelor's degree.
Step 3: Purchase surety bond
To get an HVAC contractor license in New Jersey, a person must purchase a surety bond from a specific company and the process is very detailed. A surety bond is issued by a specific company and requires signatures from both parties to be valid.
How do New Jersey HVACR contractors file their bonds? You can get your surety bond here. Secure a $3000 surety bond for your license after getting your application approved. Also remember, if you operate an HVACR business, submit the required certificate of general liability for $500,000
Step 4: Purchase insurance
To obtain an HVAC contractor license in New Jersey, a person must submit proof of general liability insurance from an insurance company that is licensed and operating in the state.
The New Jersey Department of Labor and Workforce Development requires HVAC contractors to buy liability insurance. The state also sets a minimum limit of $500,000 for the contractor to provide coverage.
Step 5: Receiving Your License and Pressure Seal
A pressure seal is a form of identification that shows the contractor has been licensed by the Board. The pressure seal is to be used on all applications for permits, and it remains the property of the Board throughout its use.
An applicant for a license to be an HVAC contractor must go through the above steps to receive their license. Although it takes around five years to qualify for an HVAC license, most states only take a month or less to process the application. Once the applicant has received their license, they will receive a pressure seal card.
What is the purpose of the New Jersey HVAC contractor bond?
The New Jersey HVACR Contractor Bond is a license bond to ensure that the contractor is licensed properly by the NJ State. This means they have met all of the requirements and can provide quality service. The purpose of the HVACR Contractor Bond is to ensure that a contractor will fulfill their responsibilities under any contract they are hired for. The bond is required as part of the application process and must be filed with the State Labor Commission.
It also protects the public in case a contractor's license is revoked or suspended and protects contractors who are not certified by providing an insurance policy.
How Much Does It Cost to Get an HVAC License in New Jersey state?
The application fee and license fee for an HVAC license in New Jersey are $100 and $160, respectively. To become licensed, individuals must have a high school diploma or equivalent and pass the state's exam.
New Jersey requires HVAC license applicants to be U.S. citizens or legal residents and show proof of liability insurance and guarantor bond amounting to $3,000 for them to qualify as an applicant under the state's licensing process.
How does a New Jersey HVAC contractor renew their license?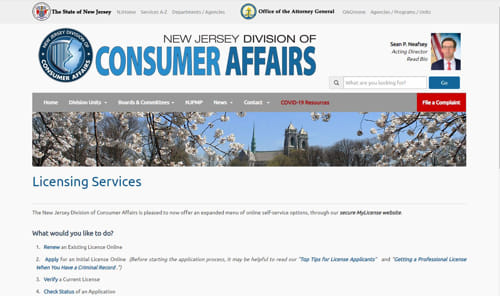 All contractors in New Jersey must have a license to legally operate. However, the licenses expire after two years and can be renewed for a fee of $160. Additionally, contractors who are not licensed will face fines of up to $1,000 per day for each violation.
If you want to stay up-to-date on your New Jersey HVAC License renewal, then you must complete the required five credits of continuing education every two years. The cost of renewing your license is $160.
The HVAC license expiration date is the 30th of June in every even-numbered year. The 60-day reminder period begins on the 15th of April and ends on the 25th of May, just before the license expires. The state provides a reminder 60 days before that license expires. If your license expires before you receive the new one in the mail, it is important to carry a receipt with you as proof of its expiration date.
You can also apply for your HVAC license renewal here.
What is the average hourly rate for a New Jersey HVAC employee?
The construction industry is expected to make steady growth in New Jersey. As a result, the demand for HVAC technicians will continue to grow as well. This has led to an increase in salaries for these professionals and their career opportunities are becoming more expensive than ever before.
In New Jersey, the top 10% earn an average of $86,290 a year as HVAC technicians. There are also plenty of job opportunities for those with no experience and training in the field.HVAC Technician Salaries in New Jersey. The median salary for HVAC technicians in New Jersey is $55,960 or $26.91 an hour. The average hourly wage for an HVAC technician with experience and education was about $49.
The median salary for an HVAC technician in New Jersey is estimated to be $51,000. The highest-paid city was Newark with an average salary of $70,000 and the lowest-paid city was Allentown with an average salary of $35,000. Newark had the highest median annual salaries in 2013 (at around $64,500) while Atlantic City had the lowest with a median annual salary of just over $39,700.
Try all in one HVAC Business Software - Free - 1 User
FAQs
Is a credit check necessary for the New Jersey HVACR Contractor Bond?
Short Answer, No. A credit check is usually not required for the New Jersey HVACR Contractor Bond. However, it may be a requirement of your state's licensing board or bonding agency.
The New Jersey HVACR Contractor Bond is a low-risk bond that doesn't require an extensive credit check. The bonds are available to contractors, which means they're also available for homeowners and other businesses who want to insure themselves against unexpected financial losses.
Are there any insurance requirements for the New Jersey HVACR contractor license?
To get a state contractor's license, you must be insured. Contractors are required to maintain an insurance policy in case of an accident or injury. The amount of coverage can vary from state to state, but typically includes general liability and workers' compensation. New Jersey requires contractors who are seeking a license to register with the state and obtain an insurance policy. The minimum insurance requirement is $100,000 per occurrence, $300,000 in total.
What can HVAC contractors do to avoid claims against the New Jersey HVACR contractor bond?
Contractors can avoid claims against their New Jersey HVACR contractor bond by having a surety bond, which is a type of insurance that protects the contractor from losses. A surety bond is written by an insurance company to cover the contractor. The bond will cover the contractor or a third party that they have bonded with, against any claims made against them.
What are the different types of HVAC licenses in New Jersey?
New Jersey HVAC licenses are regulated by the New Jersey Board of Examiners for Mechanical Engineers and Land Surveyors. There are four types of licensures:
Small appliance license- small appliance license is for refrigerators, ovens, and other appliances that use less than 500 watts and are under 6 cubic feet in volume.

High-pressure appliance license- High-pressure appliance license is for boilers and water heaters with more than 500 watts but fewer than 1 horsepower.

Low-pressure appliance license- Low-pressure appliance license covers all furnaces, air conditioners, and heat pumps (like AC units), regardless of wattage or horsepower.

Universal appliance license- Universal appliance license covers all appliances that are not covered by other licenses.
How much does it cost for an HVAC school in New Jersey?
It is difficult to answer this question because it depends on the type of HVAC school, how long you stay for, and other factors. However, in general, many HVAC schools in New Jersey have a tuition rate of $5,000 to $10,000 per year. The cost of an HVAC school in New Jersey also depends on the location and program. The average cost is around $350 per credit hour, but some schools are as low as $200 and as high as $3,000 per credit hour.
What is the demand for HVAC technicians in New Jersey?
The demand for HVAC technicians in New Jersey is high. The state's population of 9,726,149 people includes 11% of the entire US population and according to the Bureau of Labor Statistics, New Jersey has a higher percentage of employed people than any other state in the country. The demand for HVAC technicians in New Jersey is high. There are currently 10,000 open positions in the state and the average salary of an HVAC technician is $22 per hour.
What is the scope of work a New Jersey master HVAC contractor can perform?
The scope of work is the broad range of activities that a contractor can undertake to fulfill their contract. This could include installing new HVAC equipment, building an addition to an existing building, and providing construction management services. The scope of work a new Jersey Master HVAC contractor can perform includes installing the system, repairing or replacing parts, and maintaining the system.
What makes New Jersey a great place to start an HVAC career?
New Jersey is a great place to start an HVAC career because the state offers a wide range of opportunities. It has a high demand for skilled workers in the field, and it offers good benefits. The state has over 100,000 people employed in the heating, ventilation, and air conditioning industry and the state has several colleges that offer bachelor's degrees in HVAC. New Jersey also offers a wide range of job opportunities for those who want to work outside the home.
For more information about other states, you can also read our detailed guide on the New Hampshire HVAC license, the HVAC license in New York, and the HVAC license of Florida. You can also view or download the entire pdf here.
ServiceFolder offers solutions for many industries
Construction
BioTechnology / BioPharma
Electrical Services
Designer/Engineer
Fencing Services
Cleaning and Flooring Services
Garage Door Services
Lawn & Landscaping
Handyman Services
Home Inspection Services
Home Media Services
HVAC Services
Painting Services
Fire & Safety
Plumbing
Property Management
CCTV, Security, Alarm
Solar
Installation & Maintenance
Windows/Doors
Pest Control

Try

Now
---
ServiceFolder's field service scheduling software free plan is perfect for small businesses with up to three people or less. It includes time tracking, scheduling, and mobile app features that make it one of the best mobile field service management software solutions for small businesses available. It is perfect for any small business company within the field service industry that wants to use technology to increase performance and productivity.