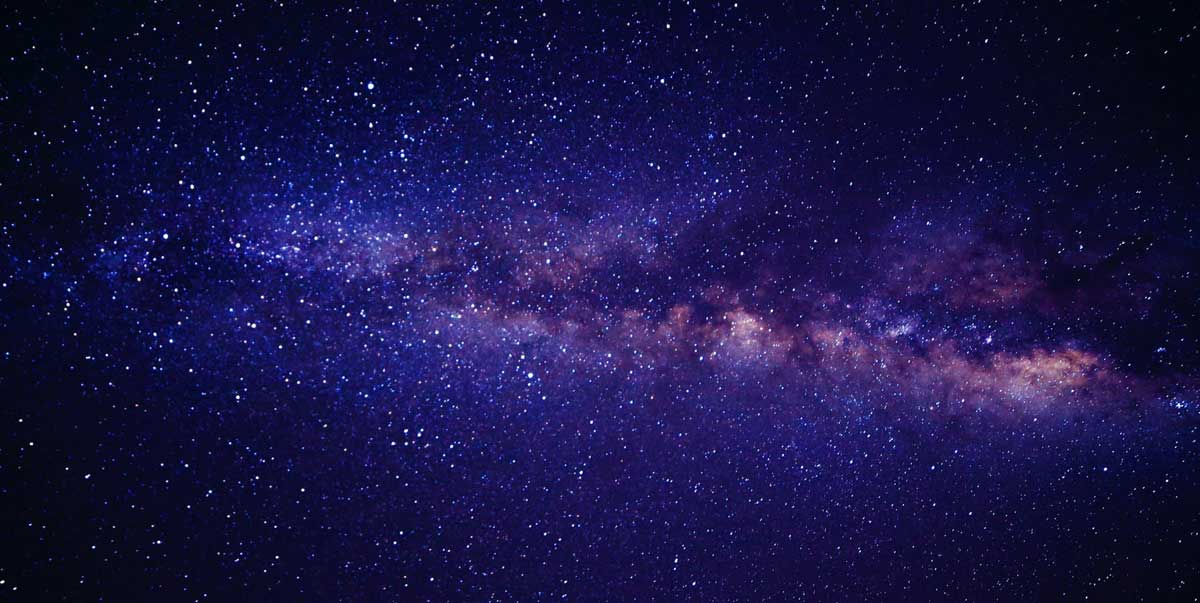 HVAC Service Van Setup: Steps to plan and set up your own service van
---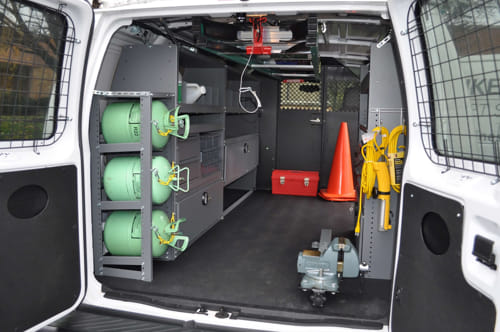 Have you been planning on building your own service van?
I am writing this short article to help people understand the process and options of creating an HVAC service van. There are many different variables that can be considered when designing a new vehicle; I will focus mainly on the components, as well as some tips for success.
The first step in figuring out what kind of space would work best is determining how big or small you want it to be: larger vehicles require longer drives and more space, while smaller vehicles are easier to maneuver.
The next step is determining what type of vehicle you want: vans can be bought or built from scratch, and service trucks come in many shapes and sizes. Once the site has been determined, building your own will require a lot more planning than buying one; do not try to wing it!
Once you have figured out how big/small/van-type of van you need for your business needs, then comes the fun part: designing it.
This article will walk you through 8 steps to design and build your own service van.
Benefits of Van Organization
The benefits of this process are that it saves time, money, and improves productivity for the team. It also helps with visibility in terms of tracking equipment within the business's fleet; as well as better control over resources such as scheduling staff members more efficiently and taking inventory on a regular basis.
In a cluttered van, important equipment is damaged easily and needs to be replaced often. In order for your company to reap the benefits of service vans such as increased efficiency in transport, including cost savings on fuel consumption. The same goes for being able to provide better customer services with an organized approach by having everything ready before they arrive at the job site.
The best way to keep your van organized is by organizing and planning ahead. In order to do this, it's important that you have a plan in place for how the equipment will be stored on the inside of the van and where each piece will go when needed.
A well-organized service truck can also help streamline delivery times and reduce downtime due to unplanned repairs or unforeseen events that may arise during a service call.
In order to have a well-organized van, the first step is planning and building it in advance.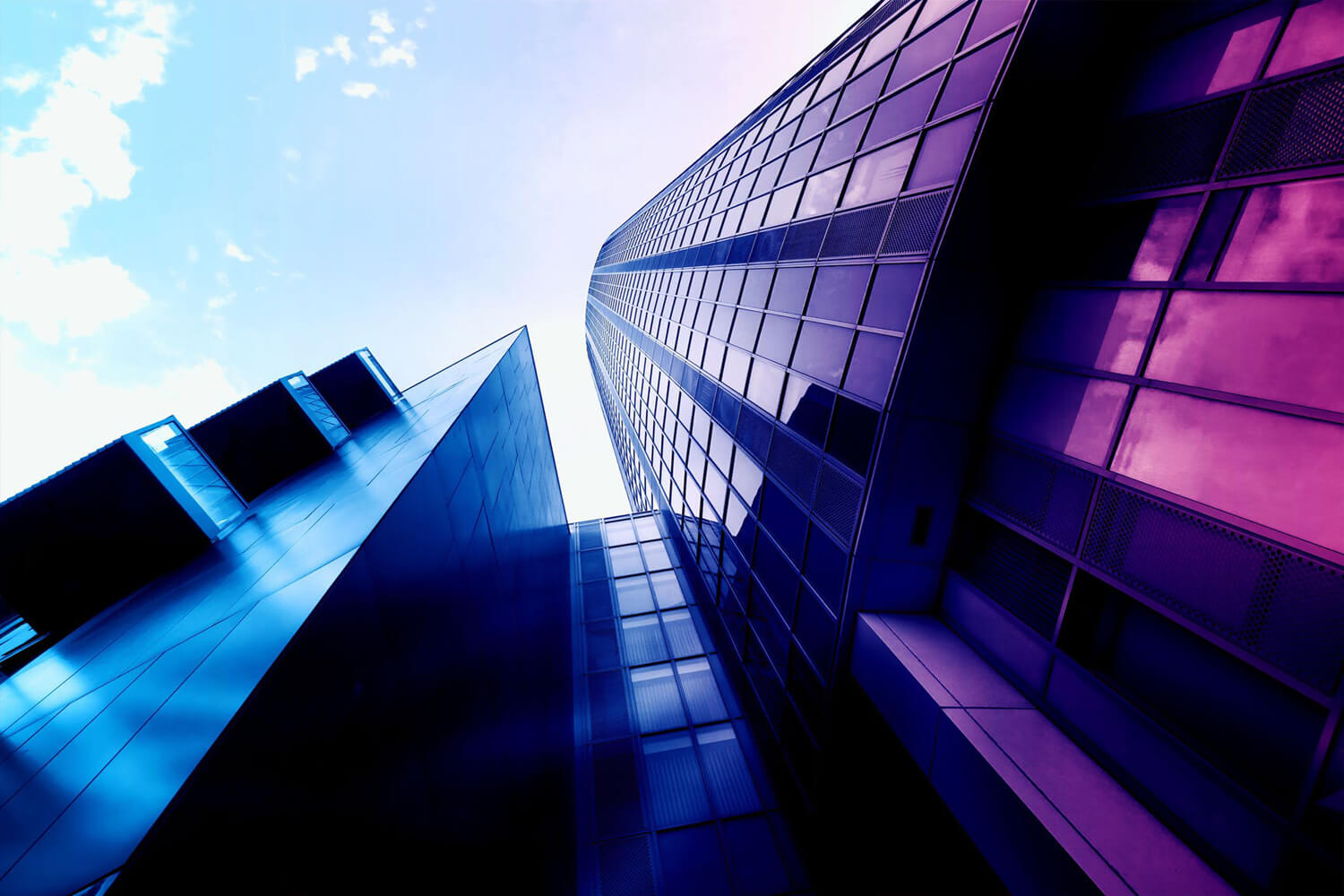 HVAC Services Van Organization Essentials
An essential part of a service van is organization. Every HVAC technician needs to be organized, and there are lots of ways to improve efficiency in the van.
One way that you can create order in your life is by setting up an organizational system for your HVAC Van. This will allow you to perform tasks more efficiently and cycle through jobs faster, increasing productivity on the job. Here are some steps in planning and building your own HVAC service vehicle:
Plan for the items that you'll need for your van.

Determine what activities the vehicle will perform on a daily basis and where it will be used.

Choose an organizational system that works best for you, whether it is based on location or type of task.

Build the work area to fit your needs and make sure it is safe and sturdy.
How to Setup Your HVAC Vehicle
When it comes to the HVAC industry, there are a wide variety of service vehicles that serve different purposes. The setup for each vehicle varies depending on what is needed and where it's going.
Interior Lighting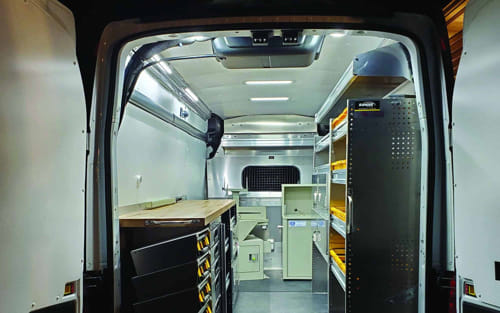 Installing interior lighting gives you the ability to work more efficiently and improve your service experience. There are two main types of light: dome lamps and touch lights. The benefits of installing a dome lamp include a wider field of view, the ability to make use of manual controls, and better visibility for working with tools or parts. Touch lights give you several benefits over traditional bulbs including an improved range in color temperature and greater brightness levels, the ability to adjust light levels in different zones, and a better range in bulb life.
Shelving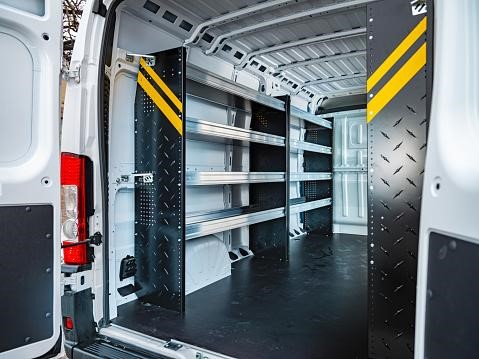 The shelf is a place to store tools that are not secured. Tools on the shelving should be placed in such a way that they do not damage or become loose from their location and fall off of it, which can result in serious injuries for those around them.
Custom shelving is the best option for service vans. This can be done by making a custom stand with legs or buying a pre-made one from retailers such as Walmart, Amazon, and Home Depot.
Partitions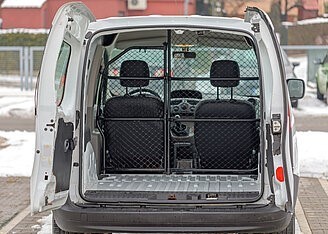 To start planning your HVAC service van, you should think about how the truck will be partitioned. You can choose between a bulkhead or a separating wall partition. A bulkhead is good for storing large items like compressors and panels while a separating wall provides more flexibility with door openings.
The partitions that are used to increase security in the tool and equipment room may be made of wood, metal, or plastic. They will also have a variety of uses depending on their design such as tools storage, workbenches, and furniture.
When a company has equipment that is valuable or sensitive, it should have partitions with security features. This will increase the security of tools and equipment in any situation.
Try all in one HVAC Business Software - Free - 1 User
Workspace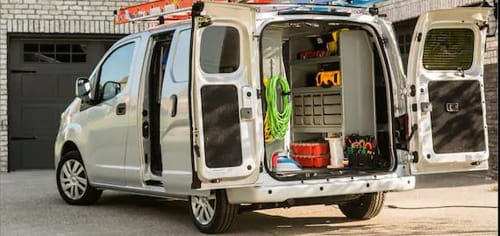 The workspace is a physical location where employees are able to work. The physical space can be set up in different ways, including with a desk and chairs, or without furniture at all.
The workspace for an HVAC service vehicle can range from as little as three to six feet by four feet and have a light machining or fabrication area. These areas are typically located on the driver's side of the vehicle, but they may change depending on what space is available.
Security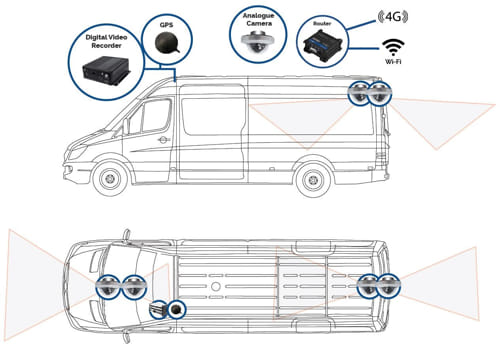 Deadbolts are a type of lock that is placed on the inside and outside of your door to deter intruders. They typically have two keys, one for each side.
You should consider installing a key fob access system in order to open the vehicle and make it easier for workers to enter and exit. You can also install a security camera inside of the van, which will give you greater visibility into what is going on while they are working.
Placement of frequently used items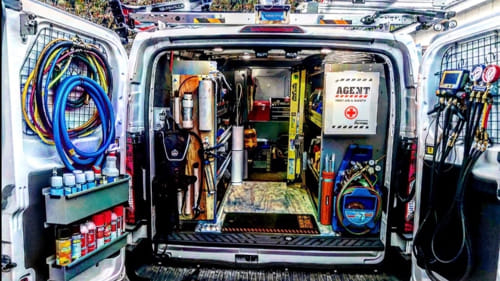 In order to avoid the risk of accidents, it is important to store frequently used items in a safe and accessible location. To get the most use out of your service van, you should place commonly used items in a location that makes sense.
It is important to keep frequently used items in close proximity. For example, if you are using a drill often and it sits on top of the workbench, then it will be much easier for you to find when needed.
Many people make the mistake of placing frequently used items in a van, which can lead to more clutter and disorganization. To avoid this problem it is best to keep these types of items on a shelf or somewhere else that does not get cluttered easily.
Storage options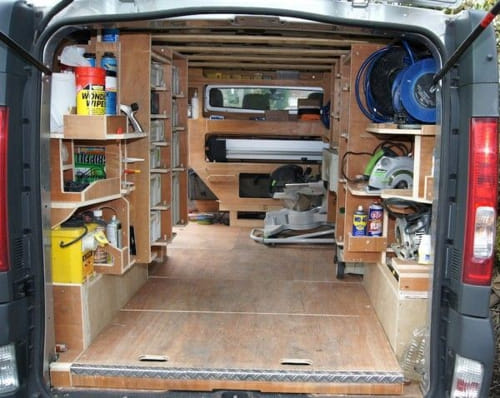 HVAC service vehicles can be expensive and difficult to set up, so it is better to purchase one that has been pre-made. The best way to find a good HVAC service van is by studying the pros and cons of each model.
The storage for little pieces and parts should have designated areas for them in order to make things easier when you are on the road.
One of the most common storage options is pegboards with movable hooks. Pegboards are a great way to store various pieces of clothing and other items, but they can be difficult to find in some areas or may not fit in your closet space depending on their size.
There are racks that are designed to store specific HVAC equipment, such as compressors and blowers. They can be used in warehouses or data centers with the appropriate height clearance for this type of storage.
Doors and labels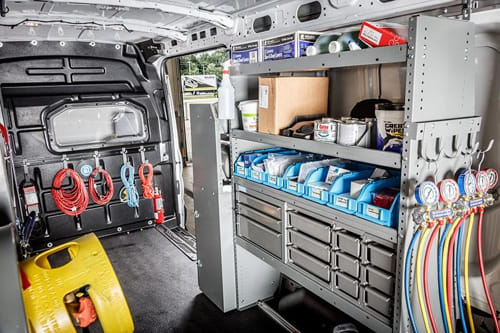 HVAC service vans need to have clean, appealing appearances. Doors and labels can make a big difference in the appearance of your van. Door and wall liners can help to protect the walls from water damage. They are typically made of thermal insulation material, such as fiberglass or polyurethane foam.
Closet doors are a practical place to store items, like tools. Closets can be decorated with fabric or plastic organizers that have pockets for easy storage of various household items and clothes. Doors provide an excellent way to label what is inside the closet so it's easier for everyone in the family to find things when they need them!
Get started with ServiceFolder
Manage Jobs & Staff
On Site Quote and Invoice
On Site Notes and Photos
Sync with Quickbooks Online
Print Designer for all Documents
Equipment/Asset Management
Customer Management
Leads Management
Inventory Management
Customer Notifications
Customer Fields
PriceBooks
Popular Categories of Trucks and Vans that can be used for HVAC service
Cargo Vans
HVAC vans are popular and can be found in a variety of makes. Mercedes Sprinter is the most recommended overall cargo van, according to Connecteam's list. Chevrolet Classic Express ranks #3 on the list, with plenty of space for HVAC equipment like compressor units and tanks.
Although there are many cargo vans by making on the market, Nissan and Mercedes-Benz have some of the largest space for cargo. The two brands also provide a reliable vehicle with power and durability.
When you are looking for a cargo van, it is important to consider the quality of customer service. Some companies offer 24/7 support and no hidden fees or charges.
Utility Vans
There are many different types of trucks and vans that HVAC technicians use, including utility vans. Utility vans are typically used by companies or individuals who want to transport things such as equipment, tools, and supplies. Popular categories of vehicles for sale include utility trucks and utility vans.
Although, there are many different makes of utility vans available on the market today. It is vital for HVAC technicians to have a reliable vehicle in order to get their work done effectively and efficiently.
Service Trucks
Investing in service trucks can help improve the safety of your company and its products. You will also have a better sense of inventory control with these types of trucks since they are designed to be mobile.
The most important part of a service van is the equipment. Each bin or rack should be numbered and labeled with its corresponding type of equipment that needs to go in it, so you know exactly what goes where. It's also helpful if your bins have wheels on them for easy transportation.
An HVAC service van can include air conditioning units, refrigerators, heaters, and other necessary components as well as tools needed for installation such as extension cords and electrical wires.
What is the easiest HVAC van to maintain?
The easiest van to maintain is one that has a schedule for overall cleaning with inspections on a regular basis. The service company should also have an approved list of suppliers and vendors so they can replace parts quickly if necessary. They need to ensure the vehicle's equipment meets current standards, as well as check all systems before going into use.
It's important to budget properly in order not only to create efficiencies but also to prevent any potential issues from occurring due to poor planning or lack of maintenance.
The easiest van to maintain is one that has a well-maintained oil change and tire pressure check, and odometer readings are checked every week.
However, with this type of maintenance schedule, you'll need to plan for the costs associated with regular servicing on your service vans. You will also want to factor in that the bigger your company grows, so does the cost per mile of maintaining each vehicle as they age more quickly because they require more work overtime due to wear and tear on the engine and interior.
The easiest HVAC van to maintain is the Honda Odyssey. The Honda Odyssey has a high operating cost because of its size and weight, but it can provide enough space for all your equipment.
What is the most reliable commercial van?
The most reliable commercial van is a service van that offers protection against engine failure in addition to coverage for workwear tear. It's mostly used for hauling equipment and can be equipped with many accessories such as rear-wheel drive, dump bed conversion kits, or roof rack options.
In order to find the most reliable commercial HVAC van, one must consider a few different factors. One of these considerations is the cost of ownership. The second factor is the length of the warranty. The third factor is the service and maintenance agreement, which will provide reliable year-round support for a commercial HVAC van.
The most reliable commercial HVAC van is the Carrier Infinity.
What features will benefit your team and HVAC service business the most?
The features that will benefit your team and HVAC service business the most are those that increase safety and efficiency. The features can be anything from using a new, better-performing HVAC unit to using a mobile app for remote service.
How will you load or unload the truck?
Before you purchase a service van, it's important to consider the needs of your payload. Some trucks have cargo bins and others are designed with open space. It is also necessary to make sure that the roof style will work for you, as this can impact how much equipment and supplies you can carry. If possible, choose a truck with drop-down doors so that you can load or unload items quickly. A utility rack is great for loading small tools and equipment onto the roof of your vehicle. Another option is a perimeter rack, which can be mounted on the side of your vehicle for an added carrying capacity.
Fitting a round peg in a square hole isn't the best policy, and acquiring the right vehicle for the job is a necessity. In addition, it might save you a lot of time and money in terms of vehicle maintenance and purchasing in the long term. What types of payload control will be required to properly secure tools, fasteners, and other various items.
The Sprinter offers two roof styles, standard and raised. This feature makes the bike more convenient for getting around, with the rider able to walk scarcely and not have to be bent over from the front or overladen from the back. If you are considering a half-ton, is the V6 engine sufficient? The V6 is available in the Chevrolet Express and the GMC Savana line of cargo vans.
Manufactures make available cargo packages specific to HVAC in addition to other trades. Some options include metal shelving, cargo bulkheads, and ladder racks. Professional cargo van accessories and equipment are extremely beneficial for HVAC Technicians and Contractors.
In addition, they also increase space inside your work vehicle by utilizing the top of your vehicle to transport bulky ladders. These include drop-down, grip lock, utility rack, and perimeter rack. An easier way to fit ladders into large vehicles or overhead compartments is to use a ladder rack, which can be found in the inventory of many professional rentals.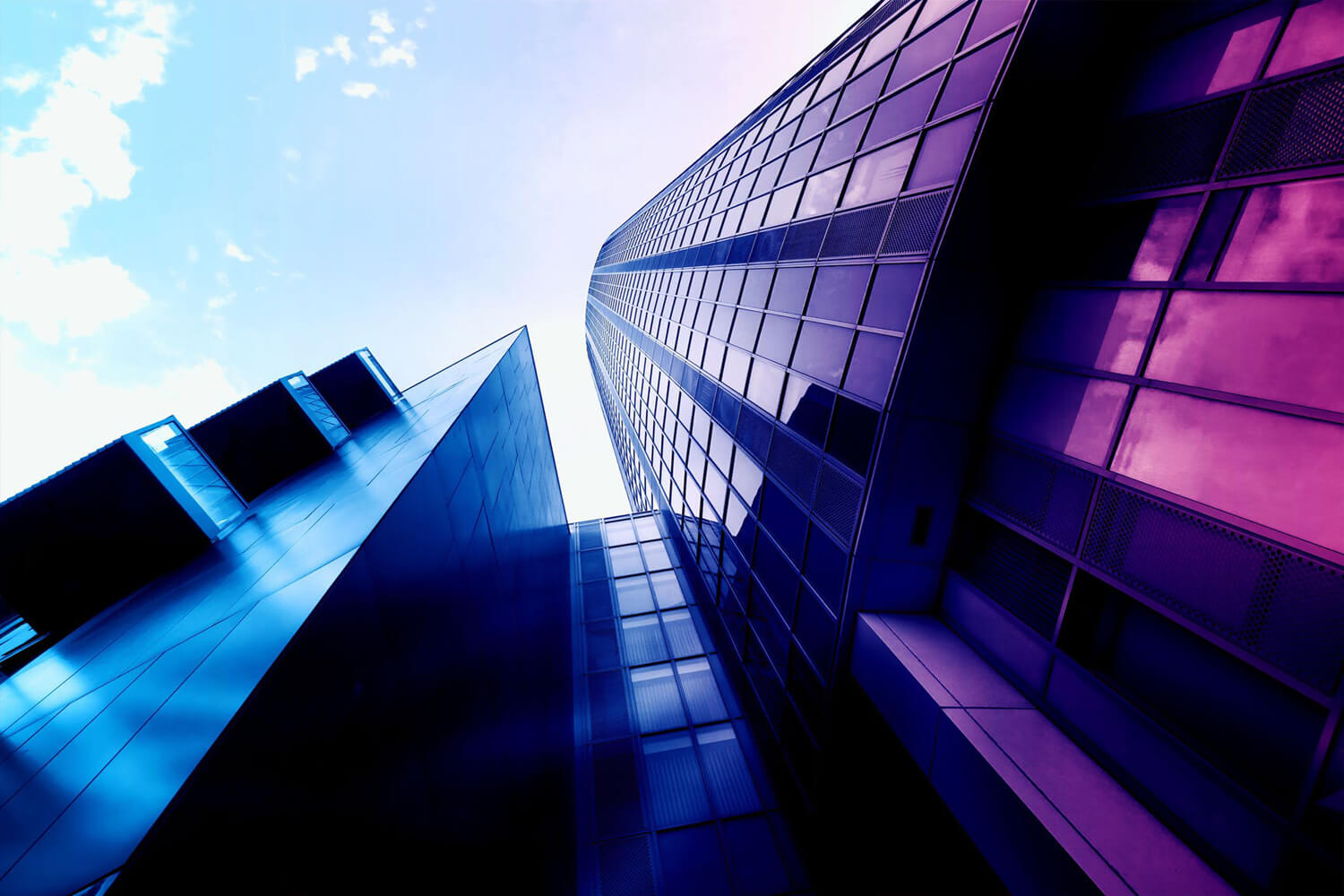 Field Service Software

FAQs
What types of bins and shelving will be required to keep everything organized reducing frustration and having to locate items?
Sprinter offers two roof styles: Standard and raised. The Standard Roof comes with a flat surface, while the raised roof is ideal for storing items that need to remain on top of the vehicle.
Features include:
Full length, 1-1/4" thick all-steel construction; can't rust or dent!

Tinted windows to help protect against UV rays.

Awning keeps drivers cool in summertime temperatures.
What will be the maximum dimensions of potential cargo?
The HVAC service van is a cargo space that has been designed to allow technicians to work efficiently. The maximum dimensions of potential cargo are 23 square feet, with up to 6 feet of height. This means that the HVAC service van can comfortably hold all equipment such as hoses and tools.
What will you need to carry on the exterior of the van, ladders, piping, and other HVAC tools?
Cargo van accessories can increase the space inside your work vehicle by utilizing the top of your vehicle for storage. Cargo van setups are often used to service high-rise buildings, and they make it easy for technicians to carry a lot of equipment on their backs during an installation.
A cargo van setup is typically made up of ladders, piping, HVAC tools, and other necessary items that will be needed when servicing any type of building or structure.

Try

Now
---
ServiceFolder's field service scheduling software free plan is perfect for small businesses with up to three people or less. It includes time tracking, scheduling, and mobile app features that make it one of the best mobile field service management software solutions for small businesses available. It is perfect for any small business company within the field service industry that wants to use technology to increase performance and productivity.