Job scheduling and dispatching are some of the most vital operations that a field service management has to perform. A wrong allotment or missing data can disrupt the whole service system of the business. That's why the field service management has to take the help of the field service scheduling software and field service dispatch software. This software has all the features that can run the operations of the business efficiently.
Get started with ServiceFolder
Job Scheduler Software
Job Scheduler module will make it easy to plan and schedule Jobs based on Field technicians availability. ServiceFolder provides three views for easy scheduling of work orders to field workers. The monthly, weekly and daily view helps in balancing the job scheduled to field service workers.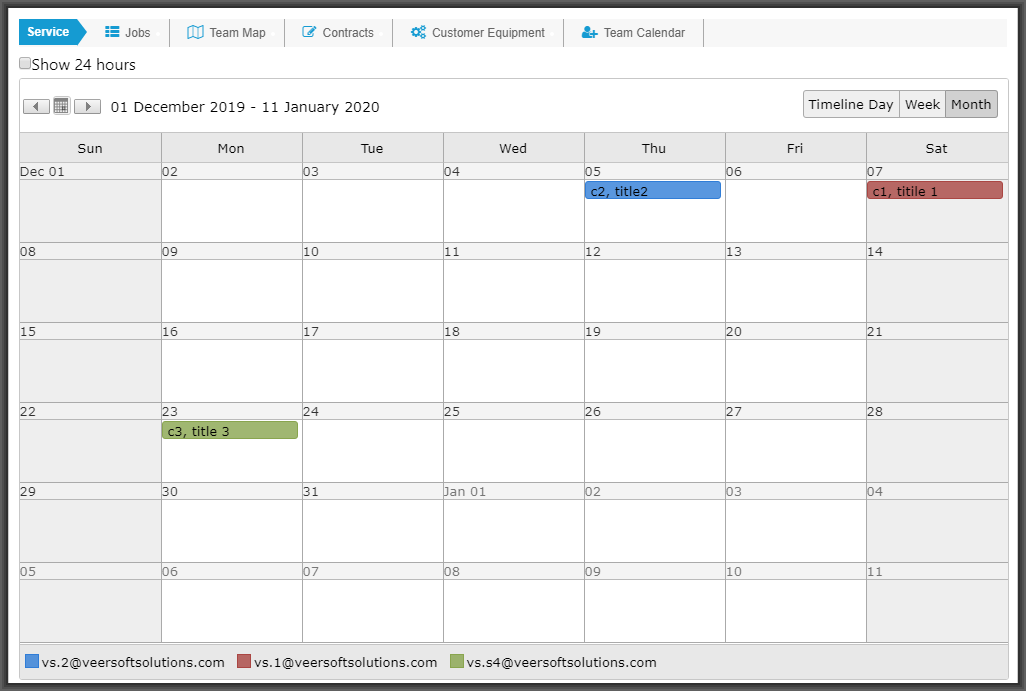 Free - 3 Users - Start Now
Contact Us
For a better understanding of the importance of field service scheduling and dispatch software, here are some detailed examples for you.
Smart Service
This software can schedule and dispatch the software for your business. It is more compatible with QuickBooks users. With this software, you don't have to struggle to find information from different files and records. It acts as an excellent field service scheduling software, as the user has to search for the eligible technician for the proposed service request. Then he has to enter the customer identity in the system. The software will take care of the rest of the job. It can optimize routes for the technicians, track time, generate reminders, invoices, and much more. Technicians can maintain their work details and reports on the iFleet app.
Quickallot
Quickallot is software that is compatible with Quickbooks. It also has the field service CRM feature to maintain a healthy relationship with the customers. It ensures the quick allocation of jobs and swift dispatch. With the mobile app, both the technician and customer can communicate with the service provider easily.
Freshdesk
This software has a group scheduling feature that performs fast job allocation. With the dashboard and various functionalities, it can release the burden of work orders. Its features like recurring scheduling, real-time tracking, the in-built algorithm, etc. make the field service management easy.
Scheduling the jobs and dispatching them always goes hand in hand. That's why you should choose the field service dispatch software that can also do the job of scheduling work orders, because it is easier to maintain one single software rather than two at a time.
ServiceFolder offers solutions for many industries
Construction
BioTechnology / BioPharma
Electrical Services
Designer/Engineer
Fencing Services
Cleaning and Flooring Services
Garage Door Services
Lawn & Landscaping
Handyman Services
Home Inspection Services
Home Media Services
HVAC Services
Painting Services
Fire & Safety
Plumbing
Property Management
CCTV, Security, Alarm
Solar
Installation & Maintenance
Windows/Doors
Pest Control