What Is ServiceFolder?
With ServiceFolder, you can gain access to a full suite of industry-specific field service management software solutions for small business that will reduce paperwork, keep your small business organized and your customers updated.
Field service technicians & your office staff will be able to use our field service management software to manage your employees, equipment & time from any computer or mobile device. With the ability to assign jobs in real-time and automate workflows, we make your life easier so your team can get back out on the job site where it matters most.
Become More Productive and Profitable
Reduce Phone Calls
Reduce Excel Sheets
Reduce WhatsApp Messages
Save time by running advanced reports in seconds instead of minutes - we've put the right tools at your fingertips!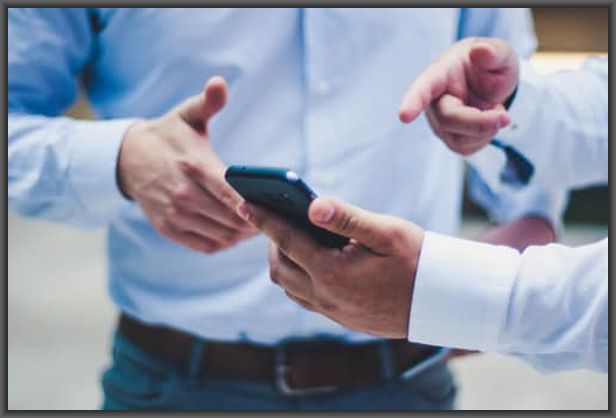 A Complete Solution for Your Office Staff + Field Technicians
The ServiceFolder field service management software solution for small businesses is designed with the office staff and small business field technicians in mind - we've put all of our features at your fingertips to help manage, track and grow your business.
Best Field Service Management Software for Small Business
We are confident that field service dispatch software for small business can make paperless workflows a reality for you. We offer our field service scheduling software for free of charge for small businesses with teams of 3 or less! You'll get access to the functionality of our service manager software, including assigning jobs, managing tasks, reporting on your field service operations and more.
Start Free - 3 Users
Innovative Solutions for Field Service Business
Office Staff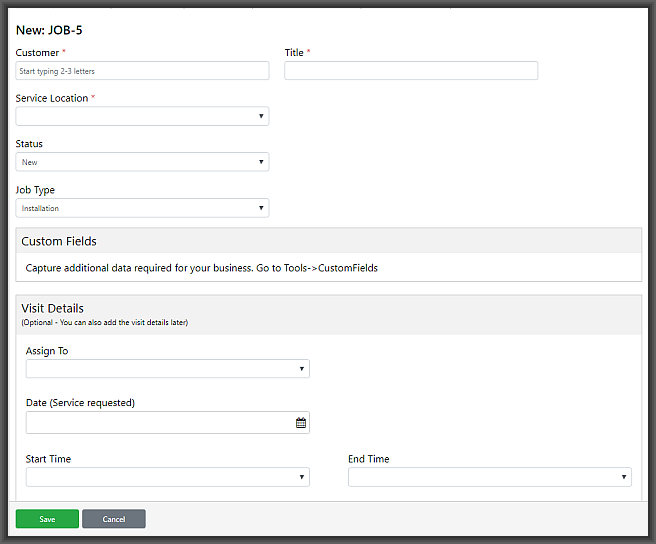 Field Technician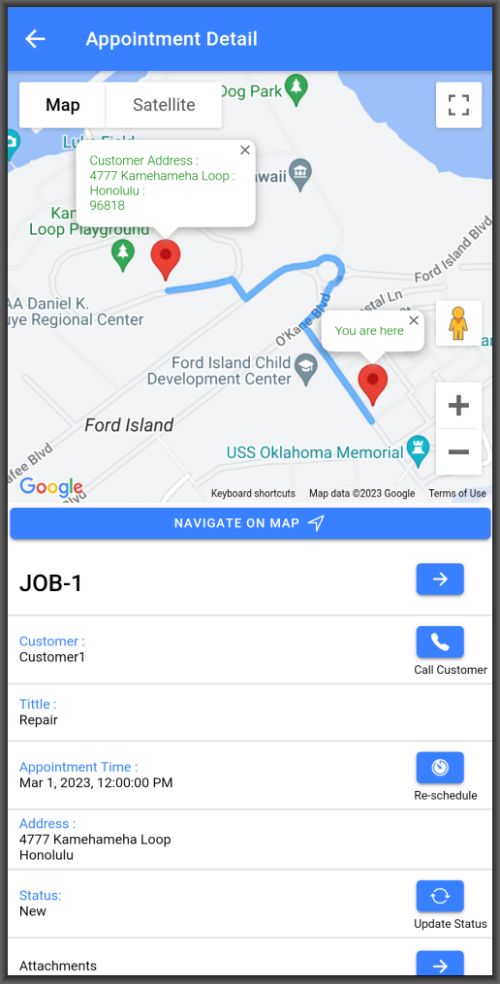 Our Field Service Software for Small Business Supports Multi- Location, Branches & Franchises
ServiceFolder field service management software is designed to work with your existing systems, so we can easily import and export data in a variety of formats to ensure seamless integration.
We've also added advanced features like inventory tracking to make it easier to keep an accurate count of supplies in your warehouse!
Our Feature Packed Field Service Management Software Includes
Branchwise Technicians / Employees
Branchwise Customers
Branchwise Invoices
Branchwise Quotations
Branchwise Jobs & Work Order Management
Consolidate Sales by Branches
ServiceFolder is Cloud Based Service Software for Small Business
Make modern day technology work for you. ServiceFolder field service management software solutions for small business will help reduce paper, keep people organized and keep customers updated so they can focus on what matters most - their small business!
Reduce paperwork & keep your small business organized with ServiceFolder. Our field service management software enables your team to keep track of standard & proprietary services efficiently. This leads to more productive & professional operations for small businesses.
Our Service Software Solutions for Small Businesses
Track Jobs & Work Orders
Technician assignment
Track Products sold/services for the job
Team Calendar at a glance
Advanced reports
Customer Equipment/Asset
Track the customer equipment
Track the Asset servicing schedule
Complete history of the equipment servicing
Google Maps
Track technician's locations
Search customer address directly on Google Maps
Automate SMS/Email
Schedule a notification to be sent to the customer or technicians
Complete control on the date and time of the notification
Schedule using Mobile or Internet Browser
Improve your Small Business with Field Service Dispatch Software
Mobile App For Field Technicians
Contact Us

After Sales Process
The after sales process is crucial with increasing your customer satisfaction. Every small business industry should have effective job tracking and job scheduling and dispatch software. Our field service management software solutions for small business makes service technician scheduling, job tracking, service agreement management, invoicing and quoting easier in your small business organization.
QuickBooks Online Integrations
Invoicing and accounting should be quick and error free. With our online job tracking software integrated with QuickBooks, you will increase your office staff's productivity by avoiding double entries and reducing data entry errors. Customers and items will be synced in and out of any small business service manager software to update inventory between multiple locations.
Field Service Inventory Management Software
Inventory accuracy is higher when you use field service inventory management scheduling software to handle your entire field service inventory. Choose field service scheduling software that handles multi-location inventory with detailed reports at every location. Our service software solutions for small business helps with the adjustments caused by irregularities like your inventory expiring, customer returns, and lost stock from leakage or damage
Effective entry of data
Our field service scheduling software app automatically tracks every job and customer interaction in the field. With one glance, office staff can see a complete history of the customer interaction. We are able to display invoicing and payment information for each service performed to perfectly understand customer expectations.
High Customer Retention
Using field service management scheduling software like ServiceFolder will increase your customer retention rate as your company will effectively track maintenance work orders. Our field service software for small business also has built-in invoicing & billing directly through your browser. Other capabilities include a job tracking mobile app for updating notes and uploading pictures or drawings now from the field.
Our Mobile Field Service Scheduling Software
Mobile App for Field Technicians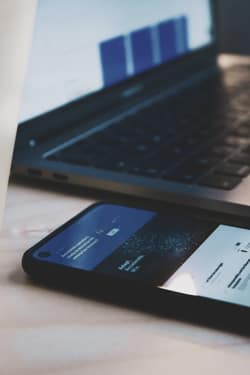 *Job Status Updates*
*Real-Time Communication*
*Live Interactive Scheduling*
Create Job Directly from the field
Our field service mobile app gives flexibility to your field service engineers. The engineer can also add customers into the field service software for the company. The field service mobile app is used to communicate with customers, receive alerts for a job status update, and record the services & costs of work performed.
Location Tracking in the field
The location tracking of the field service engineers directly through the field service manager software provides a distinct benefit for the office staff for scheduling the next work order. The office staff gets a glimpse of the location of the technician to deliver exceptional service to new clients waiting to schedule appointments.
Improve Performance & Productivity
The field service management mobile app provides flexibility to the field service engineer to create jobs. The engineer can also add customers and book new business to the company. The field service mobile app keeps your small business service technicians organized to directly affect their performance and productivity.
Why Use Field Service Management Scheduling Software Like ServiceFolder?
There are many small business benefits to use field service management scheduling software like ServiceFolder. It can improve performance and productivity for technicians in the field because it provides them with the resources they need to do their job, including location tracking, improved scheduling, and live interactive scheduling.
Office staff also benefit from it since it gives them a complete history of the customer interaction and allows them to track the maintenance work orders more accurately.
Inventory Logistics
ServiceFolder's service inventory software helps small business busy service organizations closely track warehouse and van truck parts inventory. ServiceFolder service software for small business provides the critical information for office staff, technicians, managers and customers at the right time
Streamlined Processes
ServiceFolder's streamlines the small business operations from the client's call through assigning, scheduling, guiding the field person to reach the client's place on time and along with invoicing and completed job report
Customer Satisfaction
ServiceFolder's field service inventory system also helps small business with customer satisfaction because your service technicians will be more organized & less likely to be missing products necessary to perform their job. Your field service technicians will be able to deliver exactly what your customers expect.
ServiceFolder's field service scheduling software free plan is perfect for small businesses with up to three people or less. It includes time tracking, scheduling, and mobile app features that make it one of the best mobile field service management software solutions for small businesses available. It is perfect for any small business company within the field service industry that wants to use technology to increase performance and productivity
How ServiceFolder Works?
Step 1

Customer calls the agency and discusses the work needed. The office staff properly enters the customer information & request into the field service software.

Step 2

The office staff will then assign the field service technician to the job based on their availability and proximity to the client's location.

Step 3

The field service technician receives an email or SMS notification on their smartphone. ServiceFolder's mobile app gives the complete details of the client's location and critical job information directly on the phone.

Step 4

Field engineer arrives at the client's location. The field engineer adds notes and upload pictures related to the job. The field engineer will also record the parts and materials used for the completion of the job with the help of field service management software developed for small businesses.

Step 5

Finally, your field service technician will update the status of the job to 'Completed' so that your office staff is kept informed throughout the day.
Start Free - 3 Users
Job Scheduling Software
Our job scheduling module is specialized to make you a market leader in your small business industry. Our job scheduler module will make it easy to plan and schedule jobs based on the field technician's availability. ServiceFolder provides three convenient calendar views for easy scheduling of work orders to your field service workers. The monthly, weekly and daily view helps with balancing the job scheduled to field service workers available.
Start Free - 3 Users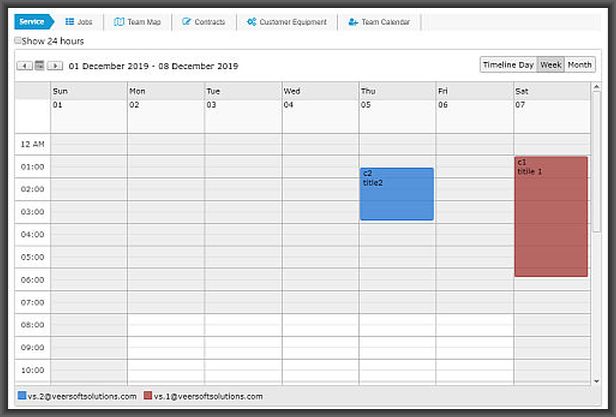 Quick Introduction to Our Field Service Management Software
---
Frequently asked Questions
What is Field Service Management Software (FSM)?
Field service management (FSM) software is software that captures, stores, and manages service jobs. It enables small businesses to manage the job from beginning to end and improve overall productivity by managing assets such as technicians & equipment across an entire organization.

ServiceFolder is service pro field service management software that small business field service management companies use to service customers and service technicians to service vehicles.
What are the benefits of field service management software?
The main benefit is that it can streamline processes within your small business field service organization, thereby increasing productivity & improving customer service by reducing labor costs and providing better accountability for all jobs performed across your entire company. This results in an overall profitability improvement because you'll have a clear view of what's going on with every job from start to finish.

ServiceFolder is one of the best small business software for field service management because it is free for 3 users or less. It can efficiently manage businesses no matter what field service industry they are in.
What are the challenges for Small businesses in Field Service Management?
Common Challenges include the following:
Timely Invoice and Payments on the field
Scheduling jobs without conflict
Communication between customer, technician and back office is in multiple places
Images and files of the work order are transferred and maintained in Whatsapp
There are many efficient ways to use field service job management tools. No matter how it's used, time tracking, scheduling, reporting & invoicing are all time-saving tools that help improve your entire company's productivity. The job management tools can help keep track of time, inventory, scheduling & job costing.

ServiceFolder is a service pro field service management software. It helps you keep track of time and expenses by taking pictures of parts replaced on the job and recording maintenance notes for the next service technician.
It isn't straightforward to use intuit field service management software, like QuickBooks, as a standalone field service management software tool. QuickBooks was designed to handle certain things like time tracking & expenses, but it was not designed to handle all the small business field service management software demands.

ServiceFolder is a better choice to handle most small business field service tasks because it helps automate specific tasks. The best part is you can utilize the field service management software integration of ServiceFolder to directly import QuickBooks data. So when using ServiceFolder, you can keep using QuickBooks while taking advantage of the perks of ServiceFolder field service inventory management software.
Why should you consider using field service management software?
Small Business Field service management software is a great time-saver because it allows you to manage your entire field service organization from a single, easy-to-use platform. It can help reduce labor costs & improve accountability of all jobs performed across the company. It will also increase productivity and profitability by improving the overall efficiency of business processes.

ServiceFolder is a free field service management software for up to 3 people that will help you save time & money by reducing paperwork. Improving the organization of your field service workers and keeping customers updated will be self-explanatory why ServiceFolder is the best small business software for field service management.
How does Field Service Management Software work to improve customer experience?
Customer experience is all about time and quality of service. If customers can't get in touch with you because your phone lines are always busy or if the time it takes to show up at a customer's location isn't great, that will leave them wrong impressions, and they may never want to do so business with you again.

One way field service job management software helps improve customer satisfaction is by making sure the time spent servicing the field service equipment is precisely what was agreed upon when scheduling the job. This allows for greater accountability for everyone involved, so there aren't any surprises later down the road.

ServiceFolder provides accurate time tracking & reporting, enabling you to see where time is wasted and where problems occurred within each service team.
What are the features of Field Service Management Software?
For small businesses, there are many features of field service management software. One is time tracking which can be done quickly by letting customers schedule jobs using the online scheduler or via email, text message & phone call reminders.
Another great feature of the best field service management software for small business is time-saving reports that let you know how much time was spent servicing equipment and labor for each work order. This information will help managers identify wasted time within teams, so issues like this don't occur again in the future.
ServiceFolder allows your entire team to communicate effectively with one another by real-time scheduling & inventory updating that improves productivity & accountability. In addition, everything is documented when it happens instead of asking each technician what they did on the job weeks ago.
Is ServiceFolder a free field service management software?
Yes, ServiceFolder is a free field service management software for 3 users for the Silver edition