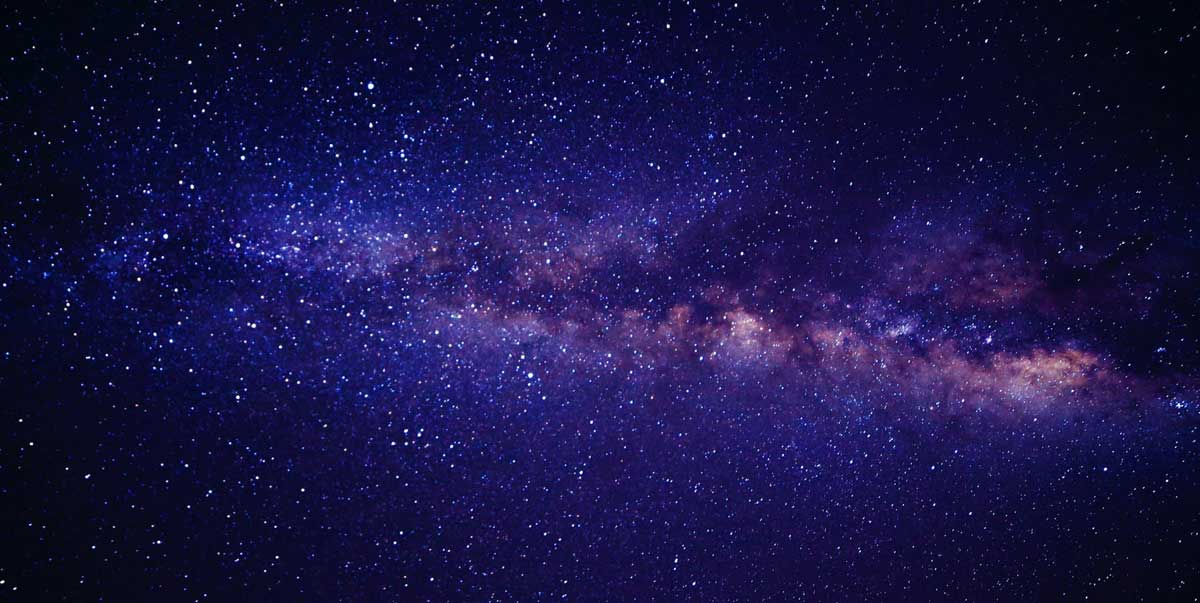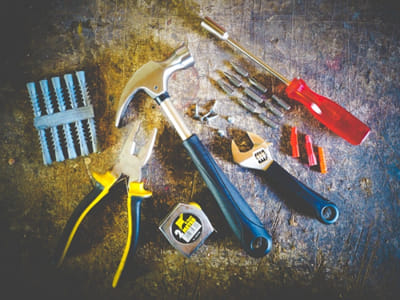 For anyone who has worked on an HVAC system, it's easy to see the importance of quality tools. After all, without them, it would be pretty challenging to get anything done! If you're looking for HVAC tools or want to learn more about what you should have in your toolbox, this post is for you.
Choosing the best HVAC tools is not an easy task. HVAC technicians should have a wide variety of tools to complete their job. Some HVAC technicians may have a lot more tools than other technicians, but all should have the same basic set listed below.
When choosing the best HVAC Tools, there are certain things you need to consider: what type of work will be done with these tools? What materials do they come in contact with? Are they made from quality materials or cheaply built material? How much weight can the item handle before it breaks? Does this company offer warranties on their products, and how long does it cover them if anything happens when using one of their items? And finally, where can I get my hands on these fantastic pieces at affordable prices?!
Right here, we have prepared the best HVAC tools list that is perfect for any HVAC professional. ServiceFolder's Field Service Management Software provides complete software solutions for back office and field service technicians in the HVAC industry
Must-Have Tools For HVAC Service Techs
This list consists of the best HVAC hand tools compulsory for every HVAC service tech and HVAC business. This HVAC tools list may seem obvious, but without it, no HVAC service techs can call themselves HVAC technicians.
1. Hammer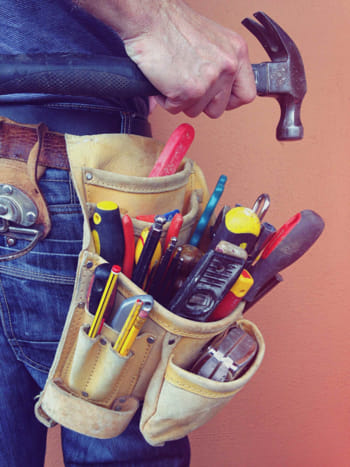 The first tool on your HVAC tool bag should be a good quality hammer for tapping bolts and nails. An HVAC service technician will need to use a hammer when hanging or working on sheet metal. Hammer should be made from quality materials that won't break easily and handle some abuse while still lightweight enough for easy maneuverability.
The material should also withstand any rusting effects of harsh environments, such as an HVAC system's outdoor enclosure if it is exposed to the weather elements.
Do not choose a smaller hammer because you think it will make life easier, but instead opt for one with a bigger head, so it is easier to get results faster without having an excess strain on your hands and fingers. Also, stay away from hammers made out of hard steel because these items are cumbersome and can cause significant fatigue when held for long periods.
The HVAC industry-standard hammer size is 20 ounces so choose one with this weight or slightly less but never more because you will have an excess strain on your arms, shoulders, back, and hands, which can lead to serious injury if used over an extended period.
2. Wire Brush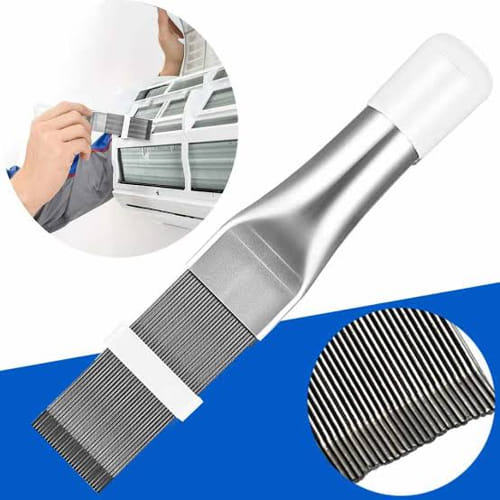 A wire brush will help clean any dirt or grime off of metal surfaces and HVAC components. This HVAC tool is used to clean metal coils and any other sheet metal component in HVAC systems that need to be cleaned from time to time.
Wire brushes can also remove rust from steel which will make it easier for HVAC technicians when they are working on sheets because the dirt, grime, or rust will not interfere with their work as much, if at all!
This important HVAC tool should be lightweight but made out of quality materials, so it doesn't wear down too quickly while being used over several days. Wire brush material needs to withstand heat without warping and handle long-term use without snapping under pressure. The wire brush heads should have copper bristles to be used on HVAC components that may have copper coil sheets.
ServiceFolder offers solutions for many industries
Construction
BioTechnology / BioPharma
Electrical Services
Designer/Engineer
Fencing Services
Cleaning and Flooring Services
Garage Door Services
Lawn & Landscaping
Handyman Services
Home Inspection Services
Home Media Services
HVAC Services
Painting Services
Fire & Safety
Plumbing
Property Management
CCTV, Security, Alarm
Solar
Installation & Maintenance
Windows/Doors
Pest Control
3. Screwdrivers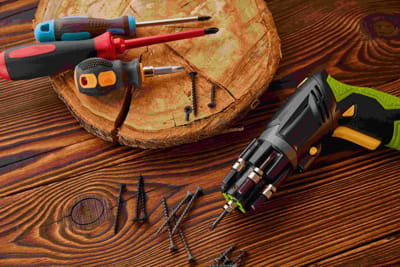 The next on the HVAC tools list are screwdrivers. You'll also want to invest in a set of screwdrivers - both Phillips and flathead. These HVAC tools are essential for HVAC service technicians because technicians can use them to remove covers and panels that need to get unscrewed before you bring the system back up.
These screwdrivers should also allow enough torque, so it doesn't strip screws or break off heads, but still have a lightweight design, so your arms don't tire out after holding them for long periods during an HVAC repair job.
The best HVAC screwdriver is made from quality material and insulated handles with grips on them to reduce slippage and protect you from electrical hazards. If any handles are missing, then replace those right away as well - broken HVAC tools aren't much use to you or anyone else!
4. Wrench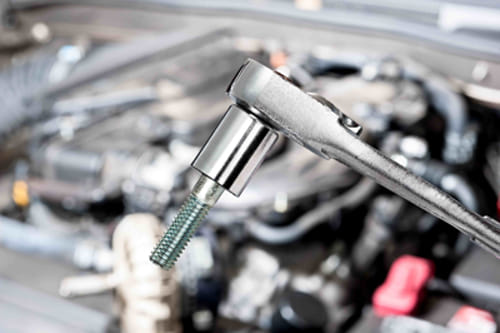 An adjustable wrench is excellent for tightening nuts and bolts on HVAC equipment because HVAC technicians will need to remove or tighten these HVAC parts during HVAC repairs.
Adjustable wrenches are also excellent for hangers because they help you get the job done quickly without having excess pressure on your hands and fingers, which can result in carpal tunnel syndrome if not handled correctly!
Make sure that HVAC adjustable wrench is lightweight but made from quality materials that won't easily warp or snap during HVAC repairs. Handles should be easy to grip and not too small, so your fingers don't get tired quickly when using this HVAC tool daily.
5. Pliers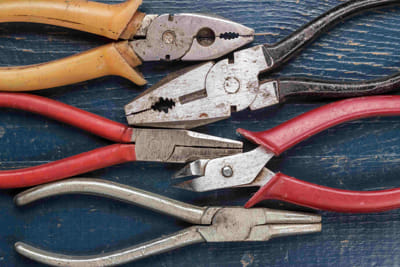 Finally, you'll need some pliers that are strong enough to cut through thick wires or pipes but also easy to work with so your HVAC tools don't get in the way of you or other technicians.
Pliers should be able to fit easily into small spaces and not take up too much room, which will make it easier for HVAC service technicians when they are working inside tight HVAC units!
Good pliers are made from quality material that can withstand HVAC temperatures and cut through metal, plastic or other HVAC components without worrying about it wearing down quickly. Please make sure they are lightweight enough to hold for long periods and strong enough not to break when working on various HVAC jobs.
HVAC Safety Tools
1. HVAC safety glasses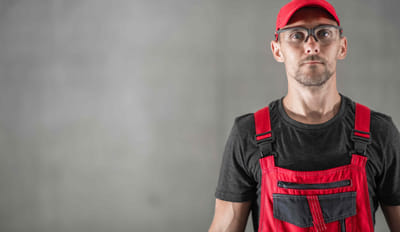 These HVAC tools will protect your eyes from HVAC debris and other materials that can damage your vision. Make sure they come with an anti-fog coating, so you don't get fogged up when working in HVAC units or outside on HVAC equipment
2. HVAC safety masks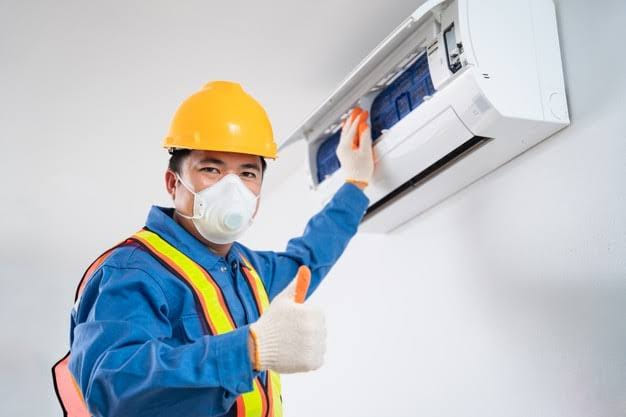 HVAC service technicians should also wear safety masks when they are working in HVAC units. This will help them breathe better and prevent any respiratory problems affecting their health over time (such as mesothelioma). Make sure the HVAC mask is easy to breathe through with little resistance or fogging up.
3. HVAC safety gloves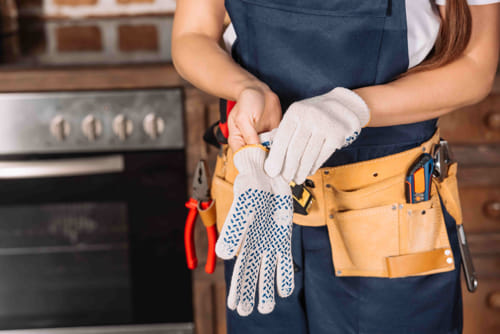 HVAC technicians should also invest in high-quality HVAC safety gloves like those above for extra protection while working on HVAC equipment.
These gloves provide protection from the elements and other tools and materials that can cut or prick through your skin if you aren't careful. Make sure they are made from quality material that will last and be easy to work with so you don't cut off your circulation or take up too much space in the work area.
4. HVAC earplugs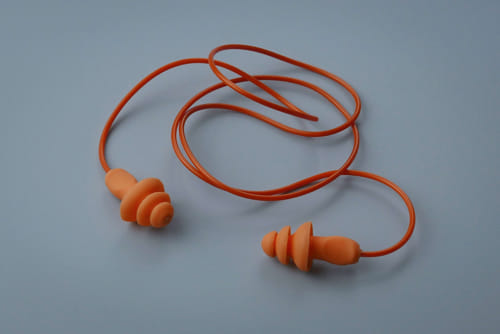 HVAC technicians should also wear earplugs to protect their ears from loud noises that can damage their hearing over time. This is very important when using an HVAC compressor or any other part of the HVAC system where you need to have your eyes and ears open for potential hazards!
Ensure that these earplugs are easy to use and comfortable enough when working for long periods in the HVAC industry.
ServiceFolder offers solutions for many industries
Construction
BioTechnology / BioPharma
Electrical Services
Designer/Engineer
Fencing Services
Cleaning and Flooring Services
Garage Door Services
Lawn & Landscaping
Handyman Services
Home Inspection Services
Home Media Services
HVAC Services
Painting Services
Fire & Safety
Plumbing
Property Management
CCTV, Security, Alarm
Solar
Installation & Maintenance
Windows/Doors
Pest Control
Top Advanced HVAC tools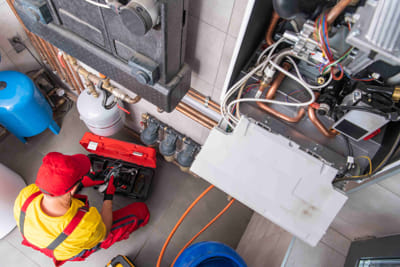 HVAC technicians can use these professional HVAC tools to get their job done even faster and provide better customer service.
HVAC techs that have been in the industry for a long time should invest in the right HVAC tools to advance their career within the HVAC field.
1. Core Removal Tool
The tool is a premium HVAC tool that only the most experienced professionals should use. This HVAC tool allows you to remove cores from compressors and other pieces of equipment with ease - but it's not something recommended for beginners trying to figure out how things work!
2. HVAC vacuum pump
An HVAC vacuum pump is a high-quality tool that allows professionals to remove air from HVAC units so they can get access to the inside of them. This will help you troubleshoot and fix problems with ease.
3. Refrigerant Scale
One should invest in an HVAC scale to measure refrigerant. This tool will help you determine how much of this gas is inside the unit and where leaks are coming from (or if there aren't any). Make sure that your HVAC scales come with easy-to-read measurements so you can get started right away.
4. Psychrometer
A psychrometer is one of the most common HVAC and air conditioning tools that you will need to get your job done. This will help you measure the humidity levels in units as well as the airflow rate. Make sure to take your time so you can get accurate results.
5. Nitrogen regulator
A nitrogen regulator is an advanced HVAC tool that helps HVAC technicians control the pressure and flow of nitrogen. This pressure control valve comes in handy when converting highly pressurized gas into a useable form.
6. Coil fin straightener
A handy HVAC tool used by HVAC service techs to clean and adjust the fins on air conditioners. This tool helps service techs to straighten out bent fins and make airflow more efficient on air conditioning units.
7. Thermal imaging cameras
HVAC tech tools such as a thermal imaging camera help HVAC techs to find out where heat is escaping from inside the unit. This tool will help you find hidden problems that are causing your HVAC systems to lose money on energy costs!
8. Leak Detectors
A leak detector is an HVAC tool that tells you where refrigerant and fuel gas are leaking from inside the unit. This is a high-quality tool that will help you save money by cutting down on wasted refrigerants.
9. Refrigeration Gauges
A refrigeration gauge is a tool used by HVAC technicians to measure the pressure and temperature inside HVAC units. It is recommended that the hose be at least 1.5m long with a quick release to reduce the amount of refrigerant into the atmosphere.
HVAC business/ marketing tools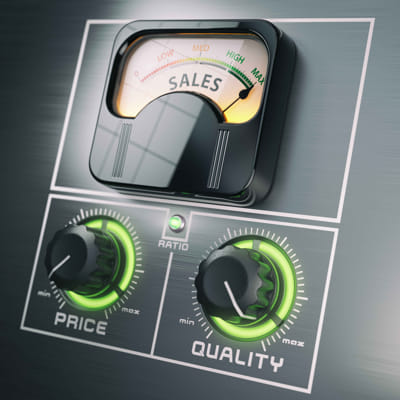 HVAC businesses should also invest in marketing tools to make it easier to market their business and attract new customers. HVAC companies can use these tools on websites, social media pages, or even in person to get more clients interested in the services that your HVAC company provides.
1. HVAC business card
A professional HVAC service technician should always have a stack of high-quality HVAC business cards with them when they are out on jobs. This is important for various reasons - first, it will help you get more customers if potential clients see that you are well prepared and ready to give them your contact information at any time.
2. HVAC marketing
HVAC service technicians should also invest in various HVAC marketing materials to help them get more work. This includes flyers, coupons, magnets, and other things that will make it easier for potential customers to find you when they need an HVAC technician.
3. HVAC service vehicle branding
HVAC business managers should also invest in high-quality HVAC service vans or vehicles to help brand their company. This will allow them to drive around town with their logo on the side so people can see it and remember who they are.
4. HVAC tech tools
HVAC companies should scale their business by providing the latest HVAC techs and business tools to their employees. These tools can be anything from a digital thermometer to tubing cutters to help them do their job. This will make technicians uphold their HVAC careers under your business name.
Miscellaneous tools
Caulking gun
Tape measure
Extension cord
Awl
Staple gun
Duct tape
Where to buy these best HVAC tools?
HVAC service technicians should always look for more HVAC business tools at their local hardware store, but there are also places online where they can find them. Online stores such as Amazon and eBay offer a vast selection of HVAC tools at great prices - so make sure to check them out!
How much do HVAC tools cost?
HVAC tools for service technicians can vary in price, but many of them are very affordable. The more advanced HVAC tools like the infrared thermometer or thermal imaging cameras will cost you a bit more money - but they are worth it when you consider how much time and energy they save!
We have listed some common tools along with their estimated price below:
Lineman plier- $35-$40
Screwdriver set- $30-$35
Tin snips- $25
Pipe wrench- $60
Core removal tool- $20-$60
Thermal imaging camera- $1500 and above
Infrared thermometer- $230 and above
Refrigerant Scale- $140 and above
Refrigerant Leak Detector- $170 and above
Refrigerator gauges- $155 and above
Psychrometer -$80 (basic model), and goes up to several hundred dollars for more advanced models.
Conclusion
Carrying the right HVAC tools to your job site can make all the difference. Service technicians should always invest in HVAC business tools to help them do their job better and faster! Essential tools such as a lightweight hammer, service wrench, and multi-purpose screwdriver are just a few examples of the best HVAC tools that you should always carry with you.
You can buy most of these HVAC pieces of equipment at your local hardware store, but there are also places online where you can find HVAC supplies as well.

Try

Now
---
ServiceFolder's field service scheduling software free plan is perfect for small businesses with up to three people or less. It includes time tracking, scheduling, and mobile app features that make it one of the best mobile field service management software solutions for small businesses available. It is perfect for any small business company within the field service industry that wants to use technology to increase performance and productivity.